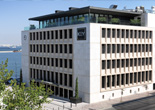 The building which houses the KEY, is an award winning architectural project of 1950 which came to life in 1955 and started serving as The Central Bank of Turkish Republic, Izmir headquarters until the mid 1980s. The architectural project was unique for that time because the design team had worked with a spirit away from the traditional ways of the era in an approach that displayed a new, modern, sophisticated, young style. Today, in the archives of the Central Bank, the work and the thought that went into every little detail by the architectural trio is clearly kept. Orhan Bolak was a university lecturer while Ergun Unaran and Doğan Tekeli were his students at the time. In the later years after the project was completed, Mr. Bolak has educated many new students at university level and Mr. Tekeli and Mr. Unaran had their signatures on countless upscale and unique projects.

After 1985, the bank moved to a new location and the building was abandoned for many years until E. Özgörkey Group of companies purchased it. Being a true Izmir lover, Mr. Özgörkey wanted to have the building refurbished and the city to gain a piece of its history back. After many years of hard work, much thought, planning and investment went into the making, the building of the hotel became once again a landmark in the city just like it used to be...

The project was redesigned and refurbished; staying true to the structural formations and originality, by Mr. Derya Akdurak of Makomim, Izmir and was re-opened to serve as the home of KEY Hotel in September of 2011. The interior of the building was converted into its new function without chaging the character of the shell but forming new textures that have taken inspiration form the 40s and the 50s, after carefully studying the original drawings and details. The fixtures as well as the interior decoration were designed, taking into consideration the original character of the building and that bygone era, still bearing in mind the indulgent comfort that is demanded in today's world.

Thinking that the majority of guests who will be staying at this historic bank building would be executives from the business world, every detail was designed around pampering them including the latest in technology.




Reservation:

Phone : +90 232 482 11 11
reservation@keyhotel.com